The effects
Lili allows dyslexics to erase the distracting mirror image and to read more easily and fluently. The perception of writing is more precise for many dyslexics. In the long term, the light flashes help them to increase their lexical spelling stock, allowing progress in reading and spelling.
The benefits
More contrasting perception of letters

Smoother and faster reading

Self-confidence, renewed motivation

Better understanding and concentration
Our beta test in 2021 showed an efficiency rate of 80%. For more details on the process and results of the beta test click here.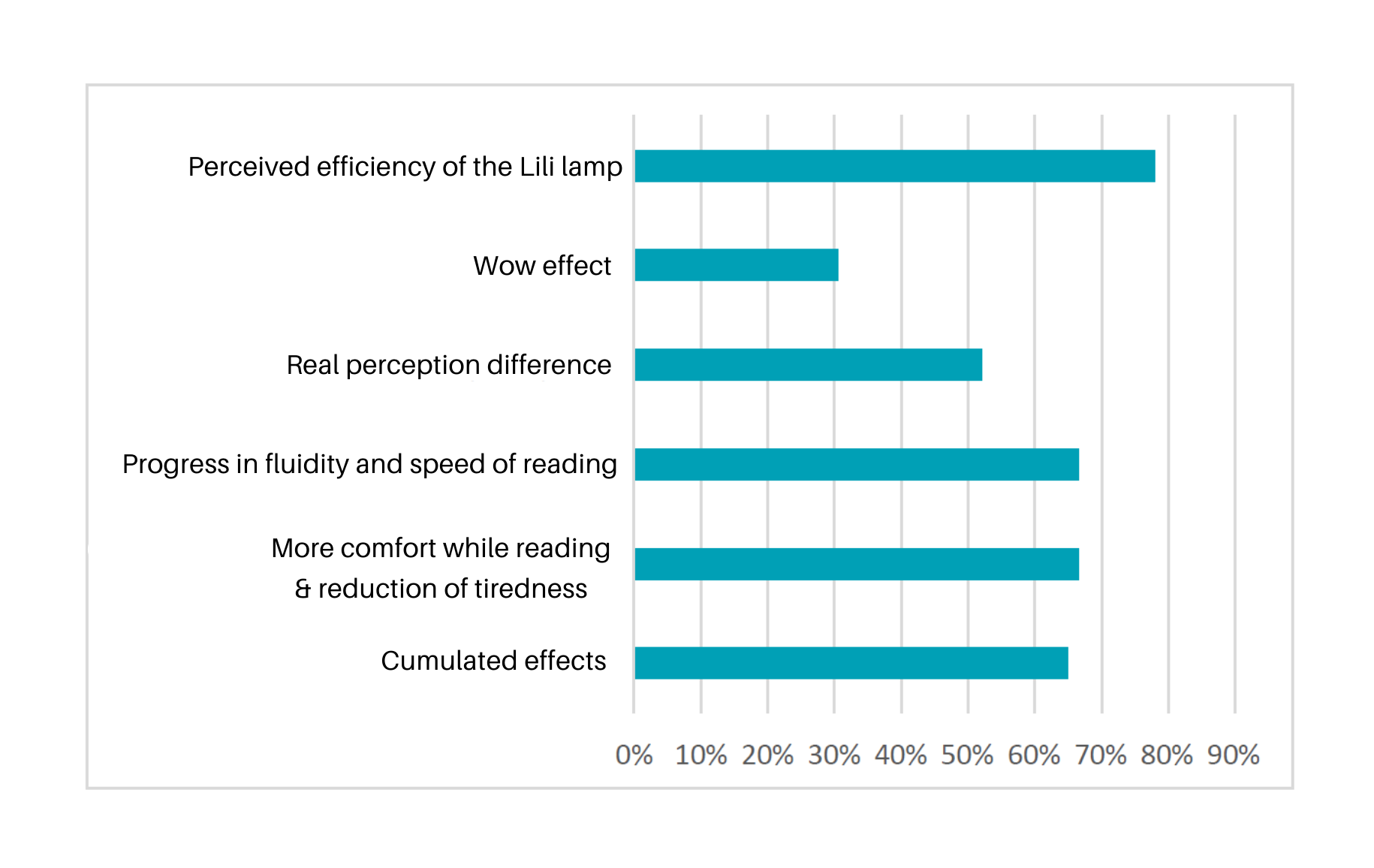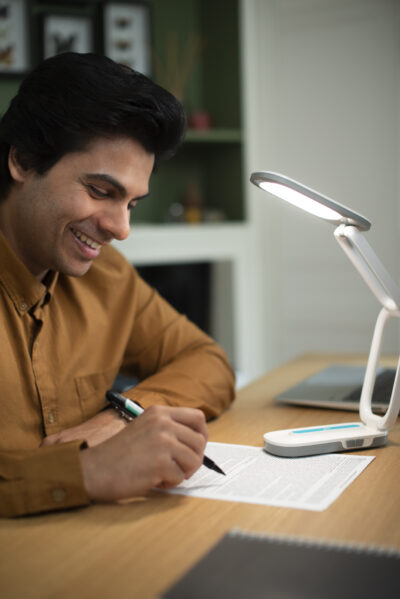 Wow effect
30% of beta-testers feel a "wow" effect: a very clear difference in visual perception from the first use. They tell us that they rediscover reading, like colour-blind people who might rediscover colours.
The letters dance less, the words no longer "overlap"

Better line tracking, easier returns to the line

Less mistakes while reading.
More motivation
29% of beta testers say they are more motivated
More energy and enthusiasm
21% say they have more energy and enthusiasm to start reading
Increased self-confidence
25% mention a gain in self-confidence, which is perfectly logical: the improvement in reading skills leads the dyslexic person into a positive spiral.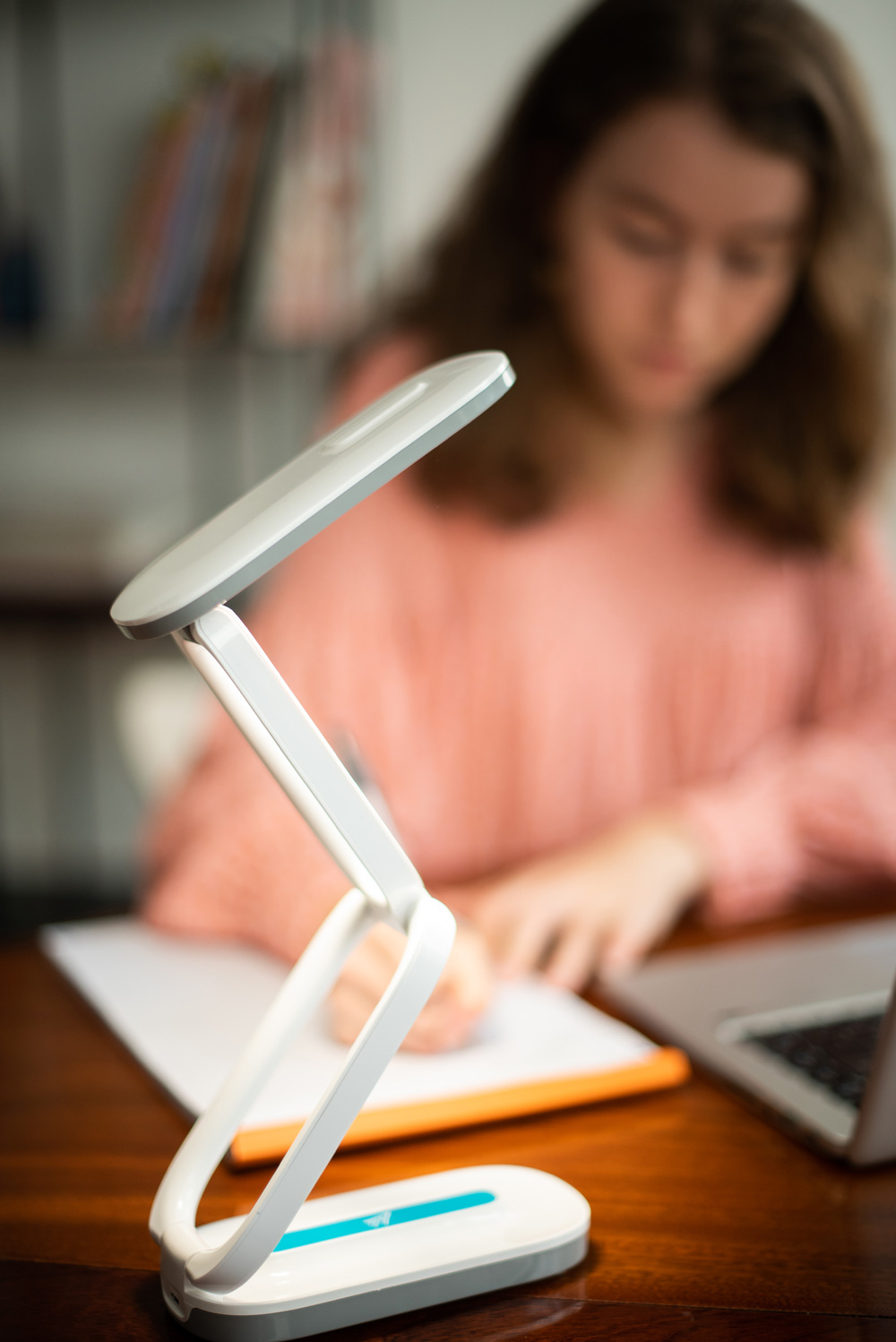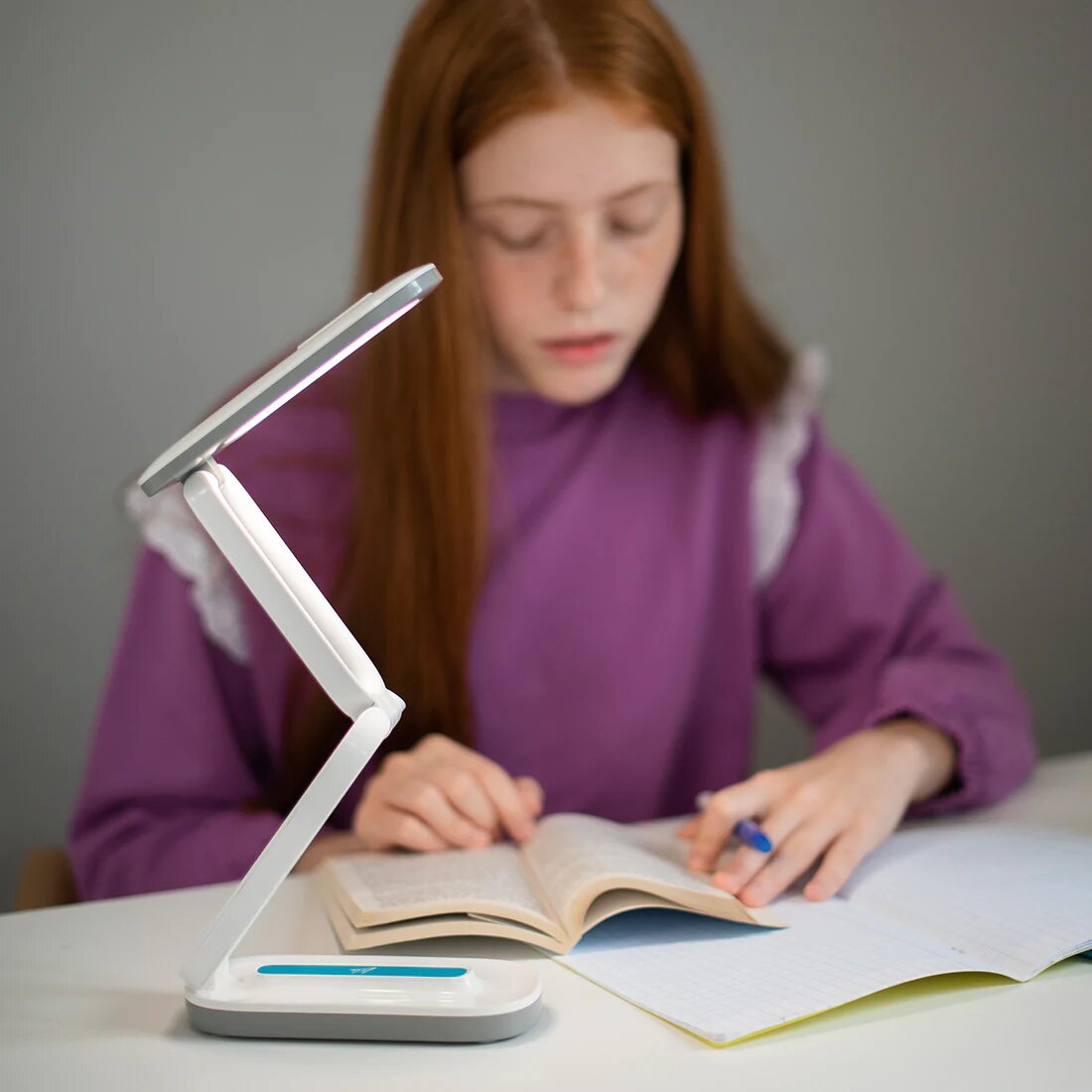 Striking testimonies
« Reading becomes easier, it makes me less tired »
« Reduced eye strain, even on screen and when writing »
« I remember sentences better, no need to proofread »
« He used to read for 15 minutes at night, now he reads for up to an hour

»
« I am less tired during the evening »
« His motivation to work has raised with his "magical" »
« He is less reluctant to get started »
« He is more organised, more focused »
Rate of real difference in visual perception. For some beta testers, it takes 5 to 6 uses to reach this.
of beta-testers report an improvement in the speed and/or fluency of their reading.
of beta-testers describe a
visual comfort and reduced reading task fatigue.
positive feedback on the effectiveness of the Lili lamp
Academic study
To complement these results, an Academic Master 2 study was conducted on a smaller sample.
The study found that 83% of users experienced a real difference in perception and improved reading.
The wow effect is an immediate difference in perception: 58% of our testers felt an immediate difference in perception with the lamp.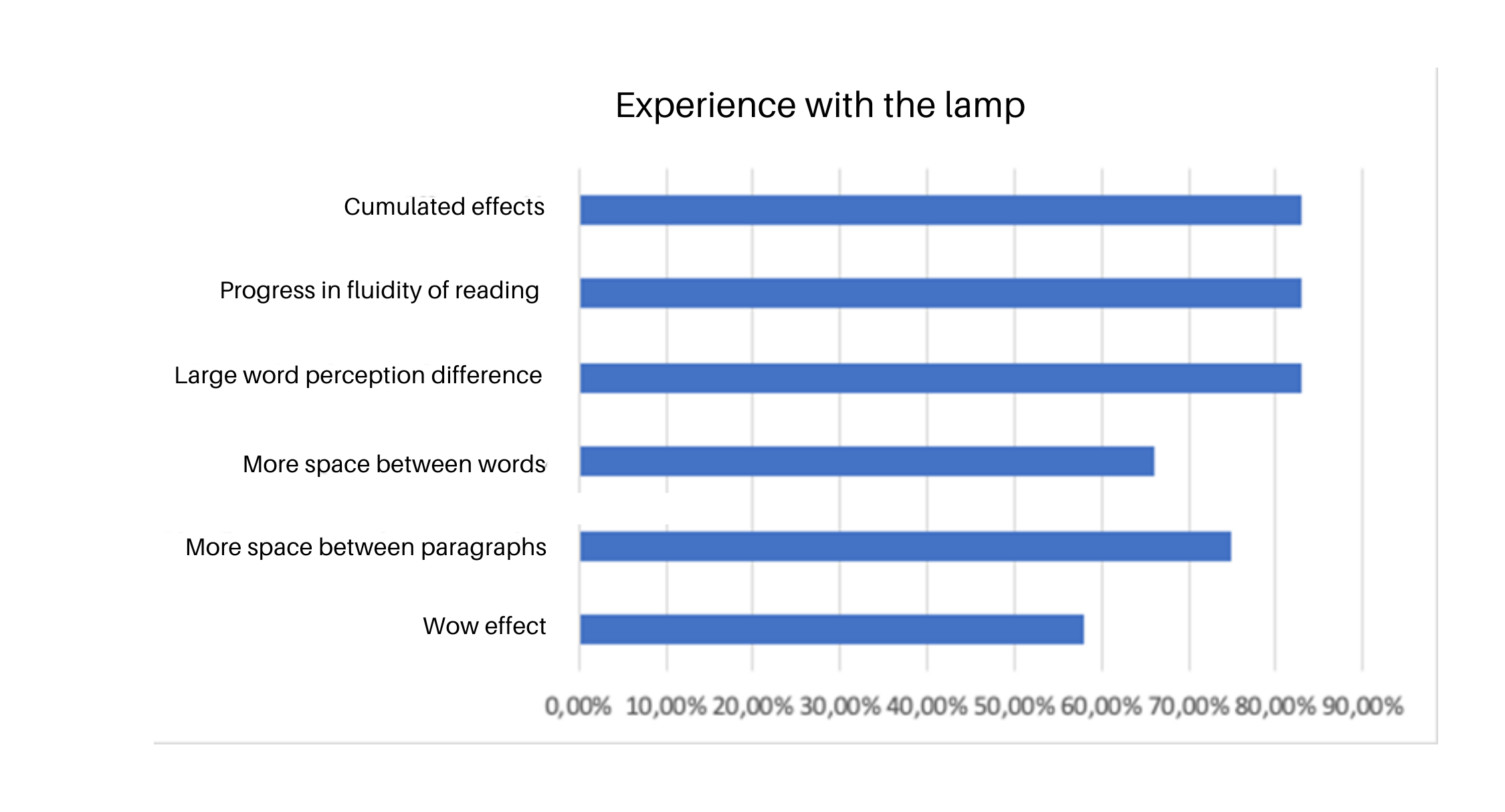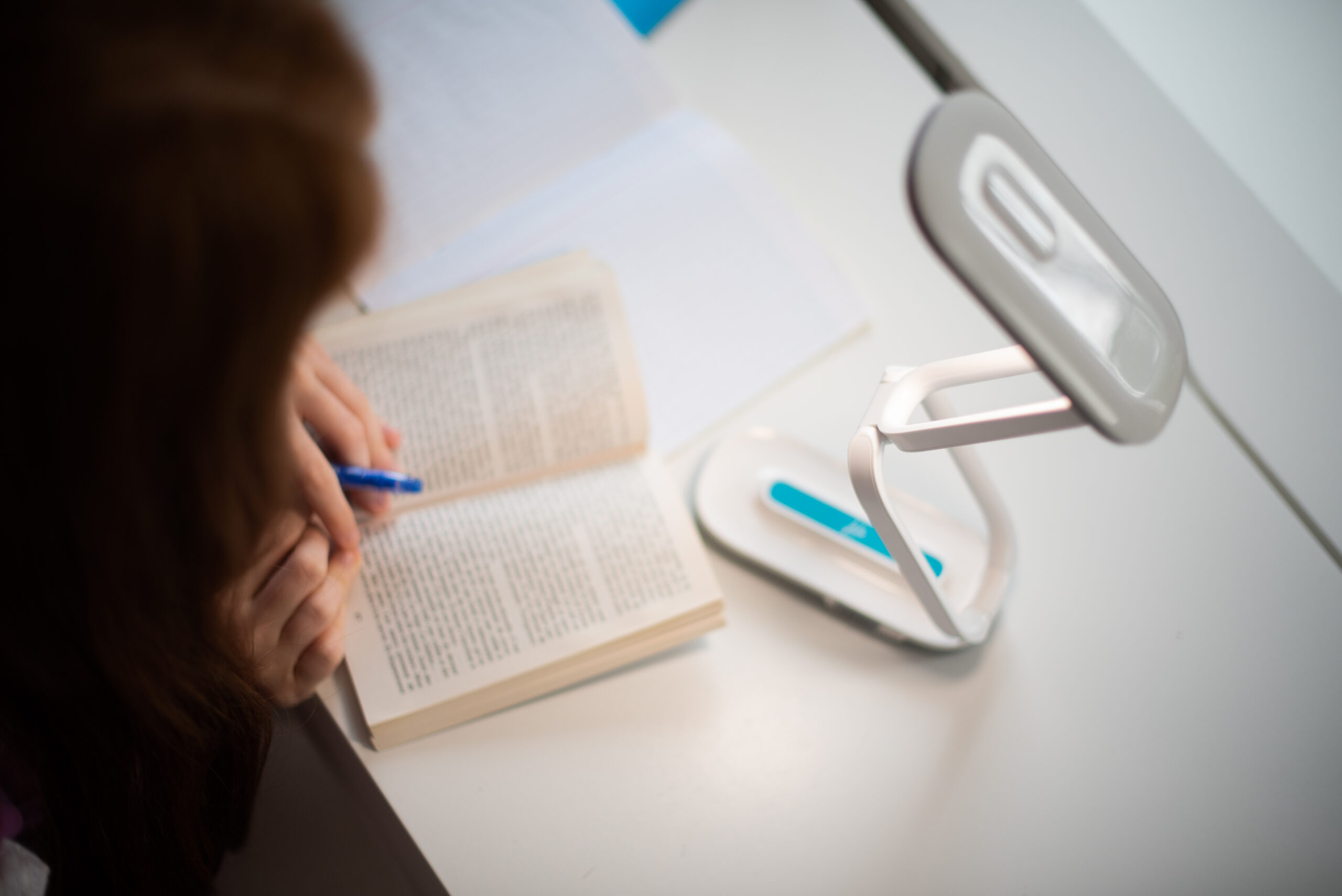 To sum up
To conclude on our beta-test and that of Lili lamp, we can say that the most felt effects are the fluidity of reading and the reduction of fatigue. Thanks to the light flashes, the mirror image is eliminated for dyslexic people, thus providing better comfort. It can be said that the Lili lamp is a help for dyslexic people in general.
Customer service
Available 6/7 : +33 2 78 92 00 10
Free delivery
Delivery up to 5 days

Made in France
Imagined and developed in France
Testimonies
Beyond the studies and the scientific litterature , since the beginning of the adventure, we have received moving testimonies from dyslexic people, both children and adults, who have "lived again" since using Lili. Their comments confirm the veracity of the effects of the innovation, and reinforce our mission to promote it widely, to dyslexic people throughout the world.